151140

Tips, white 10-200 ult, mla type

Unit of measurement : Nr
Volume m³ : 0.04


| | | | |
| --- | --- | --- | --- |
| מק"ט | ת י א ו ר | | יחידת מידה |
| 30-151140 | tips, white 10-200 ult, mla type | | 1000 |
| 30-151540 | mla tips 151140 in autoclavable box | | 1000 |
151143

Tips, yellow 5-100 ult, eppendorf type

Unit of measurement : Nr
Volume m³ : 0.093


| | | | |
| --- | --- | --- | --- |
| מק"ט | ת י א ו ר | | יחידת מידה |
| 30-151143 | Tips, yellow 5-100 ult, eppendorf type | | 1000 |
151146

Tips, blue 100-1000 ult, eppendorf type

Unit of measurement : Nr
Volume m³ : 0.093


| | | | |
| --- | --- | --- | --- |
| מק"ט | ת י א ו ר | | יחידת מידה |
| 30-151146 | Tips, blue 100-1000 ult, eppendorf type | | 1000 |
152143

Tips, neutral 5-200 ult, gilson type

Unit of measurement : Nr
Volume m³ : 0.093


| | | | |
| --- | --- | --- | --- |
| מק"ט | ת י א ו ר | | יחידת מידה |
| 30-152143 | Tips, neutral 5-200 ult, gilson type | | 1000 |
200009

Yellow universal Eppendorf 5-200 UL TIP

Yellow universal Eppendorf. Suitable (not exclusive)
for the following pipettes: Eppendorf, Gilson, Socorex,
Nichryo, Boinhit, Brand Rack made of
polypropylene autoclavable up to 121ºc.
Transparent lid and blue base

| | | | |
| --- | --- | --- | --- |
| מק"ט | ת י א ו ר | | יחידת מידה |
| 10-200009 | Yellow universal Eppendorf 5-200 UL TIP | | 1000 |
200012
Universal Socorex Eppendorf 100-1000 UL TIP


Universal Socorex tip, with collar. Suitable (not exclusive)
for the ,following pipettes: Eppendorf, Gilson, Socorex,
Nichryo, Biohit, Brand Treff. Rack made of polypropylene
autoclavable up to 121ºC. Transparent .
lid and blue base for models without filter
or red base for filter models Suitable with Menarini.
The special Socorex tips are for the
fix model pipette of 500ml

| | | | |
| --- | --- | --- | --- |
| מק"ט | ת י א ו ר | | יחידת מידה |
| 10-200012 | Universal Socorex Eppendorf 100-1000 UL TIP | | 1000 |

Racked Maxipense Filter Tips,
Sterile, 10-1000µl

| | | |
| --- | --- | --- |
| מק"ט | ת י א ו ר | יחידת מידה |
| 25-528100 | Racked Maxipense Filter Tips, Sterile, 10µl | 960 (10 Racks) |
| 25-528101 | Racked Maxipense Filter Tips, Sterile, 20µl | 960 (10 Racks) |
| 25-528102 | Racked Maxipense Filter Tips, Sterile, 50µl | 960 (10 Racks) |
| 25-528103 | Racked Maxipense Filter Tips, Sterile, 100µl | 960 (10 Racks) |
| 25-528104 | Racked Maxipense Filter Tips, Sterile, 200µl | 960 (10 Racks) |
| 25-528105 | Racked Maxipense Filter Tips, Sterile, 300µl | 960 (10 Racks) |
| 25-528106 | Racked Maxipense Filter Tips, Sterile, 1000µl | 960 (10 Racks) |
Material: PP. Autoclavable. Certified RNase, DNase and Pyrogen-free. Virgin hydrophobic, medical grade polypropylene, free of lubricants, dyes and heavy metals.
Tarsons Micro Tips are of the highest quality and made from the best quality material.
Tips provide an excellent seal on micro-pipettes.
Will suit almost all brands of micro-pipettes. Economical, too.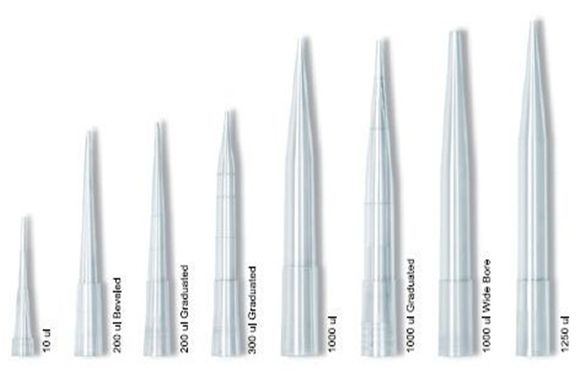 | | | |
| --- | --- | --- |
| מק"ט | נפח µl | יח' מידה |
| 521000 | 0.2-10 | 1000 |
| 521010 | 2-200 | 1000 |
| 521010-Y | 2-200 Yellow | 1000 |
| 521014 | 200 Ref | 1000 |
| 521014-Y | 200 Ref, Yellow | 1000 |
| 521020 | 200-1000 | 500 |
| 521020-B | 200-1000 Blue | 500 |
| 521016 | 1000 Ref | 500 |
| 521016-B | 1000 Ref Blue | 500 |
| 521017 | 1000 Wide Bore | 500 |
| 521040 | 1250 | 500 |
| 521018 | 1250 XL | 500 |
| 521015 | 50-300 Ref | 1000 |
| 521031 | 5ml Grad. (Suitable for Eppendorf/similar pipettes) | 100 |
| 521032 | 5ml Tarsons/Gilson | 100 |
| 521033 | 10ml | 100 |
| 521034 | 10ml XL | 100 |